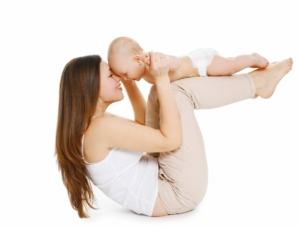 At Madison Women's Health, part of our guiding philosophy is our dedication to providing women with outstanding care to help them be the healthiest and most balanced versions of themselves. As part of this philosophy, we wanted to highlight the Prenatal Yoga and Postpartum Exercise classes that we offer our patients here at Madison Women's Health and the instructors that teach them!
The Prenatal Yoga class is a wonderful way to maintain balance in the changing body and mind during pregnancy. In this class, students engage in yoga asanas (poses), restoration and breathing practices designed to strengthen and fortify the experience of pregnancy and prepare for birth. In this class, patients are taking care of their bodies and their baby's, while being supported by a community of women and guided by a trained pre-natal yoga instructor.
Our Prenatal Yoga Instructor, Sara Kraemer, has been teaching since 2011 and has over 500 hours of yoga training, including pre-natal yoga. Her pre-natal Yoga classes aim to nourish, calm, and restore pregnant women while building a community of support. Her pre-natal classes are available to practitioners of all levels and aim to support women in pregnancy and childbirth. Sara also teaches Yoga classes in Madison and enjoys a career in education research.
This class meets on Tuesday evenings, 5:45 – 7:00pm, in the Madison Women's Health Community Room. Each 70-minute class is limited to eight people and is open to pregnant women who have been cleared by their physician for this class. More information regarding session dates and cost, can be found on the Madison Women's Health website.
The Postpartum Exercise class offers a combination of core exercise, light weight training (utilizing your newborn) and cardio. This weekly, one-hour class also allows our patients to socialize with other new moms and provides them the energy to get through their busy days!
Our Postpartum Exercise Instructor, Beth Tiller, is a certified personal trainer and group exercise instructor, and is also certified in pre- and post-natal exercise. Beth brings over 20 years of exercise instruction experience with various populations, including 10 years with pregnant and newly non-pregnant women. She has a strong passion and commitment to teaching and helping women achieve their fitness goals safely, while having some fun along the way. In addition to pre- and post-natal exercise, Beth likes to focus on her own personal health and fitness and loves to do just about anything outdoors.
The Postpartum Exercise classes meet on Monday mornings, 10:30am – 11:30am in the Madison Women's Health Community Room. Each one-hour class is limited to eight people and is open to women who are six weeks to six months post-partum. Participants may begin their six-week session on any given Monday, with their physician's approval. Please call our office at 608-729-6300, to confirm class dates and availability.