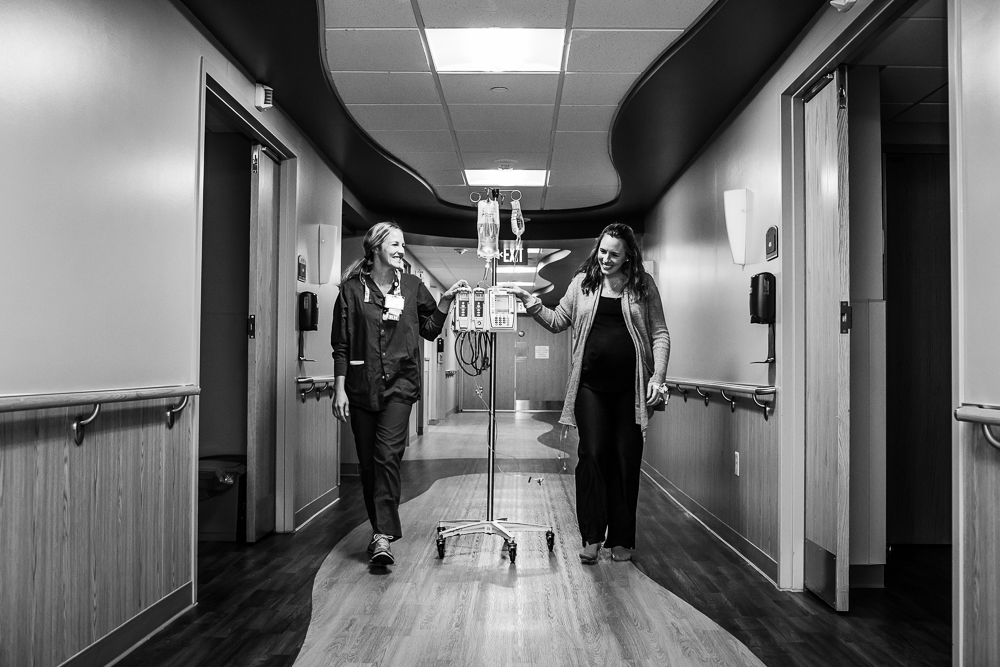 What is a Midwife?
A certified nurse-midwife (CNM) is a nurse with a bachelor's degree who has obtained a graduate degree in nurse-midwifery from an accredited midwifery education program and is board-certified from the American Midwifery Education Board (AMCB)

There are two other kinds of midwives, certified midwives and certified professional midwives. Certified midwives have a bachelor's degree in other areas than nursing and have the same master's degree training as certified nurse midwives and mainly work in birth centers and in homes.  Certified professional midwives complete an apprenticeship program or complete a formal education program and mainly work in birth centers and homes.

The word midwife means "with women"; midwives stand by and support women during their lifespan
Nurse-midwives are licensed, independent health care providers in all 50 states with prescriptive authority

In the state of Wisconsin, a collaboration agreement with an MD is required

Nurse-midwives provide primary health care including health promotion, disease prevention, and individualized wellness for women during adolescence and beyond menopause including gynecological care and family planning, preconception care, care during pregnancy, childbirth, and postpartum (ACNM, 2016)
The philosophy of care of nurse-midwives revolves around these basic principles:

Affirmation of the power and strength of women
The importance of shared health care decision making between a woman, her family, and her health care provider
A model of health care that promotes a continuous and compassionate partnership
The therapeutic use of human presence
Recognition of the normalcy of life events such as menses, pregnancy, birth, postpartum period, and menopause
The importance of watchful waiting and standing by; and the appropriate use of interventions and evidence-based care
Collaboration and referral to other members of the health care team to provide optimal care (Core competencies for basic midwifery practice, 2012)

94 % of nurse-midwives attend births in hospital settings, 3% of nurse-midwives attend births in free-standing birth centers, and 3% of nurse-midwives attend births in homes (ACNM, 2016)

As a CNM working with Madison Women's Health I will be attending hospital-based births
Madison Women's Health is a shared practice model, so the MD's and CNM will share patients

Medicaid covers Nurse-midwives at 100% of the physician rate and most insurance companies also cover nurse-midwives
Differences between care between a Nurse-midwife and an OB-GYN
Clinic:

Longer appointments if desired with more time spent on health promotion and education

Hospital

Promotion of normal physiologic labor when possible
Bedside labor support in collaboration with your labor/delivery nurse and other members of your support system during the labor and delivery process
If a situation arises that requires an assisted delivery or surgery, immediate collaboration will take place with the OB/GYN on call for Madison Women's Health
Immediate postpartum period: Breastfeeding assistance as needed in collaboration with your labor/delivery nurse and other members of your care team
Postpartum: Education, breastfeeding support as needed in collaboration with postpartum nursing staff and lactation consultants, and support as you prepare for discharge from the hospital. Close postpartum follow up with a phone call or office visit.
For more information on nurse-midwives and their philosophy of care, see the American College of Nurse-Midwives website (www.midwife.org)
References:
Core Competencies for Basic Midwifery Practice (2012). Retrieved from https://www.midwife.org/acnm/files/ACNMLibraryData/UPLOADFILENAME/000000000050/
Core%20Comptencies%20Dec%202012.pdf. (2019).
Journal of midwifery and women's health (March 2016). What is a midwife. Volume 62:2. Retrieved from https://onlinelibrary.wiley.com/doi/epdf/10.1111/jmwh.12468.
Written by:
Leslie Smith, CNM
Photography Credit: Anya Wait Photography