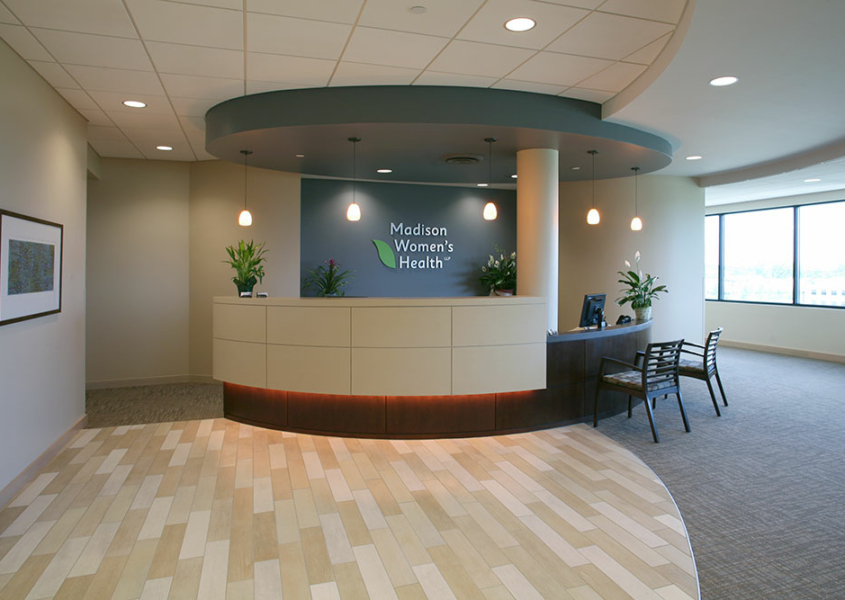 Madison Women's Health Google Reviews
Current patients, we would love to hear from you as well! Here are just a few stories from our happy patients:
Amazing support throughout one of the most difficult times of my life. They later gave me the best gifts I have ever received, my daughter and my son. They provided wonderful care during all of my pregnancies. I've had the opportunity to interact with many different people at this clinic, and everyone is fantastic! I will forever be grateful for all of them." – Leah R
---
Best place ever! I have been coming here since they opened in 2010 and have had nothing but extraordinary care at MWH! If you want a place that offers a different kind of care, this is your place! If you are pregnant, just need your annual women's physical or other concerns, this women owned and ran practice is far the best place I have ever been at. Not only will you enjoy the view, free coffee in front of the fireplace and great staff, you will also be reassured that you are getting the best women's health care around the Madison area." – SF
---
I just had my first visit with Dr. Durward and am really happy with how it went! The clinic has a good setup in place to be mindful of COVID. Dr. Durward was excellent and listened to all of my concerns. I felt safe and comfortable with both Emily (the nurse) and Dr. Durward. I left the clinic feeling relieved and really thankful for the welcoming and healthy environment." – Helen M.
---
I've seen a few of their professionals and they are all great practitioners, intent listeners, highly educated, and on top of the latest research – very caring and helpful with any questions. One of them even diagnosed and quickly treated an skin condition that other doctors brushed off. Thank you!" – B C
---
I had a wonderful experience with Dr. Weidel. I was never afraid to ask questions and she was very thorough and went into great detail about my options. I always felt very comfortable and well taken care of." – Anastasia Strukel Kramaper
---
Amazing group of providers and staff whose passion for helping women shows in their care both in the clinic and hospital! Evidence based and compassionate care – I recommend them all the time and wouldn't go anywhere else for my care!" – Avery Spencer
---
Former patient, had Dr Kate Sample and Steph Brasser, I loved coming here. Even on days I was in pain and needed to be checked out. I always felt welcome and never felt awkward. I got my IUD placed and 4 years later taken out here. Received nothing but AMAZING CARE! Staff is extremely nice and always tries their best to make sure your comfortable and satisfied. I highly recommend this great Women's Clinic! I've had bad experiences elsewhere but never here. Unfortunately I had to move away and I no longer can go here. I really miss it though!" – Jaida Jones
---
"Madison Women's Health LLP is the absolute best. Their front desk team has always been kind, friendly and helpful. The nurses and medical assistants I encountered were all great. I had to call a couple of times after hours for questions, and my calls were always returned promptly and the on call providers were very helpful. It is also nice that at this clinic most services are done right there (blood/lab work, the 12 week ultrasound, genetic counseling, etc.) The only thing I had to go to Meriter for was my 20 week ultrasound. My primary doctor was Dr. Durward and I cannot say enough great things about her. She always took the time to answer my lists of questions and made sure I left having them all answered. I never felt rushed at any of my appointments with her, or any of the other providers. I was fortunate enough to get to know Dr. Wiedel as well – and her energy is contagious! Dr. Schoenecker was on call when I was admitted to deliver my baby. She was helpful in talking us through decisions we would have to make and what to expect. Dr. Yanke was there when our daughter was born, and her support in the delivery will not ever be forgotten. Bottom line, these providers are the best in Madison and I look forward to seeing them all again when the time comes for baby #2." – Lisa P
---
"I had a really good experience at this clinic after switching. The view is really nice, both the MA I worked with and the NP was fantastic and so kind." – Shelbey Hagen
---
"Great practice. All of the Dr.'s here that I have met have been excellent. Huge contrast to my previous clinic. It also has a more friendly front office staff which I am a fan of. At my previous clinic most of my time was spent with a nurse answering questions, and only a few short minutes with the doctor. At this clinic you spend marginal amount of time with anyone but the doctor. I think this is a nice personal touch since after all, they are the one you are there to see. The nurse at my delivery said it was her favorite group in town, and would be her personal choice if she were to give birth." – Emily Thrasher
---
"Doctors and nurses are very kind and make you feel comfortable, they always answer my questions and take care that everything is OK." – Mercy Munoz
---
"Had the best care I have ever received from Madison women's health! Dr. Wiedel delivered my son last year and was fantastic! I saw a few of the Dr.'s during my pregnancy and loved them all! I highly recommend Madison Womens Health!" – Sadie Barela
---
"This is the absolute best clinic for women and pregnant women. I adore my OB/GYN and saw her through two pregnancies. The reception staff is wonderful. My nurse diagnosed my gall bladder disease after 2years of GI specialists couldn't." – Wendi Kent
---
"I began seeing Dr. Stoffel at MWH for obstetric care in 2014 and have been so pleased with the care I receive there. I think I've met about 5 of the docs and have had good interactions with all of them. Speedy responses to MyChart messages are what prompted this post today, but I've also delivered 2 babies in their care (unplanned c-section with the first, repeat with the second). Would definitely recommend their services to anyone looking for an OB/GYN!" – Kirstin Andrea