Pregnancy Hospital Bag Checklist: What to Pack in Your Birth Bag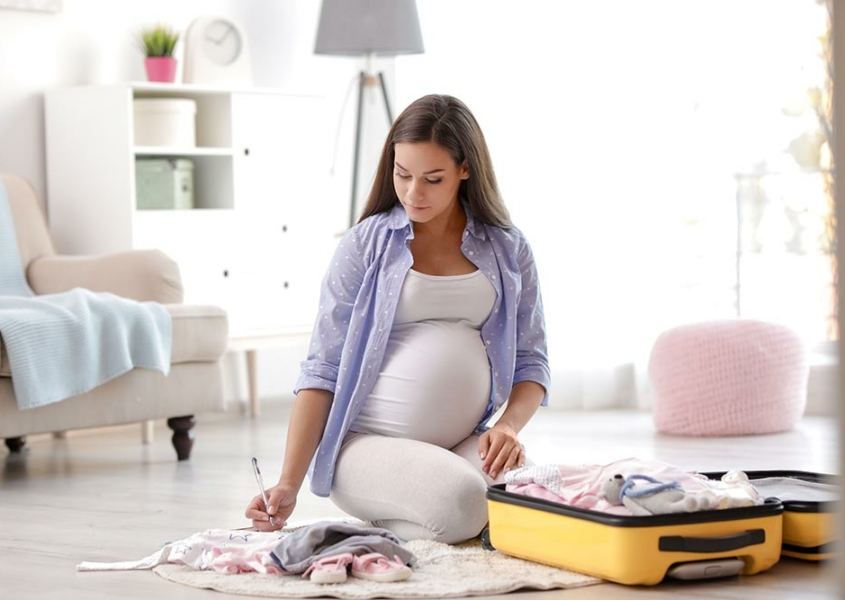 Your due date is getting closer. Your baby's nursery is coming together. You've oohed and aahed over all the cute little baby things showing up. (Hello, baby showers and online shopping!) You're ready to meet your little one and bring baby home!
The final step is to make sure you're ready for your stay at the hospital where you will birth your baby. Pack a spare backpack or carry-on suitcase with your hospital essentials by Week 36. Keep it in an easy-to-access place at home.
Our guide to what you should pack in your hospital bag will get you ready for the big day. Whether you're a spontaneous traveler or one who is prepared for every last possibility, there are a few "must haves" to put in your hospital bag for you, your baby, and your support person. This list will be the same whether you have a vaginal birth or a C-section.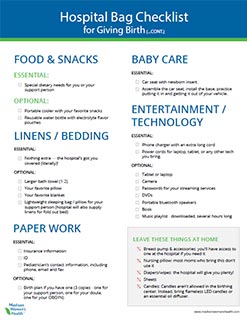 Printable Hospital Birth Bag Checklist
Clothes for You
The hospital has the essentials — a gown and disposable underwear — but you may want to change into your own clothes. And you'll definitely want to bring something clean to wear home. Choose clothes that are comfortable and loose fitting. Your breasts will be swollen and your waistline will still be about the same as it was a month or two ago. We don't recommend packing your prettiest undies — you'll probably prefer briefs that can accommodate extra large, absorbent pads or even cold packs.
Essential:
Nursing bra (2) or nursing tank (2)
Underwear (2-3 pairs)
Socks (2-3 pairs)
Going home clothes (your favorite maternity yoga pants and shirt are just fine but others prefer something special!)
Optional:
Birthing gown
Pajamas
Robe
Slippers / Flip-flops
Lounge wear
Clothes for Baby
The hospital will provide a tiny t-shirt, hat, and swaddling blanket to dress your baby during your hospital stay. This will be the simplest "outfit" for every day you're in the hospital. Newborns make lots of unexpected messes, as you'll soon discover!
However, you'll need to put your baby in some actual clothes for the drive home, or maybe even for pictures at the hospital. Most babies will fit in size NB clothing however you could also pack a 0-3 month outfit just to be on the safe side if your baby is larger.
Essential:
Long-sleeve snap-up or zip-up onesie with feet
Receiving blanket for the car seat.
Optional:
Size NB or 0-3 month size clothes for the baby's stay in the hospital.
Size NB or 0-3 month size clothes for going home. Consider the baby's comfort (for example, while wearing their special outfit in the car seat – avoid bows in the back).
Receiving blanket.
Socks.
Baby mittens so the baby doesn't scratch itself.
Toiletries for You
Much like a hotel, the hospital provides the essential toiletries, like shampoo, soap, conditioner, toothbrush and toothpaste. However, most of our patients tell us they prefer their own brands instead of what the hospital provides.
Essential:
Specialty skincare items or prescriptions
Contacts / Glasses
Optional:
Pack a toiletry bag with travel- or trial-size supplies you may wish to have on hand.
Lip balm
Nipple cream (if you plan on breastfeeding)
Deodorant
Brush and/or comb
Soap/shampoo/conditioner
Face wash or wipes
Lotions
Hair dryer and other hair products
Makeup and brushes / sponges
Linens / Bedding
The hospital will make sure you have clean sheets, towels and wash cloths. You'll also have a bed with several pillows and blankets. If you have a hard time sleeping with a different pillow, it might be a good idea to bring your own.
Essential:
Nothing extra — the hospital's got you covered (literally)!
Optional:
Larger bath towel (1-2)
Your favorite pillow
Your favorite blanket
Lightweight sleeping bag / pillow for your support person (hospital will also supply linens for fold out bed)
Food & Snacks
During active labor and delivery, you probably won't feel like eating very much. But your support person might!
At Meriter, you can order off the menu between 6 AM and 7 PM. There's also a mother's area with healthy snacks like granola bars, cheese sticks, juice and cereal. The hospital has vending machines with other food items. Some people also order takeout / delivery from nearby restaurants.
Essential:
Special dietary needs for you or your support person
Optional:
Portable cooler with your favorite snacks
Reusable water bottle with electrolyte flavor pouches
Birthing Room Ambiance
One way that many women manage pain is by creating a calming environment. The birth center at Meriter is well-stocked with things like birthing balls, tubs, and even holiday lights so your room can be dimly lit. You may want to pack a few extra things from home, though, to help you stay as comfortable as possible.
Essential:
Any item you have a specific attachment to that will keep you calm. For example, a good-luck trinket given by someone close to you. Or the photo of a loved one who you wish could be with you.
Optional:
Essential oil & diffuser  (candles are not allowed)
Flameless LED candles
More strings of lights
Entertainment / Technology
While you're waiting to go into active labor, waiting for baby to finish nursing, or simply in need of something to keep your mind busy — you'll probably want some form of entertainment.
Meriter Hospital has TVs and DVD players in their birthing rooms, and every room has WiFi access. Now that so many people have streaming services like Netflix and Hulu, most download their favorite shows ahead of time or stream on demand.
Essential:
Phone charger with an extra long cord
Power cords for laptop, tablet, or any other tech you bring.
Optional:
Tablet or laptop
Camera
Passwords for your streaming services
DVDs
Portable bluetooth speakers
Book
Music playlist – downloaded, several hours long
Baby Care
Meriter Hospital has everything your baby will need in their first few days. Things like diapers, wipes, and even formula in bottles. In fact, they will send a lot of things home with you. You don't need to bring diapers, wipes, or bottles. Even if you choose to cloth diaper, you will prefer the ease of the hospital's disposable diapers those first few days.
Essential:
Car seat with newborn insert.
Assemble the car seat, install the base, practice putting it in and getting it out of your vehicle.
Paper Work
Essential:
Insurance information
ID
Pediatrician's contact information, including phone, email and fax
Optional:
Birth plan if you have one (3 copies – one for your support person, one for your doula, one for your OBGYN)
Leave these things at home:
Breast pump & accessories: you'll have access to one at the hospital if you need it
Nursing pillow: most moms who bring this don't use it
Diapers/wipes: the hospital will give you plenty!
Sheets
Candles: Candles aren't allowed in the birthing center. Instead, bring flameless LED candles or an essential oil diffuser.
What if I Forgot Something!
No worries! The hospital really does have everything you need for labor and immediately following labor. You can also send someone back to your home to get your hospital bag if you prefer to use your own things.
While you won't be able to control or plan for every aspect of your labor and delivery, you can make it more enjoyable by bringing some of the comforts of home.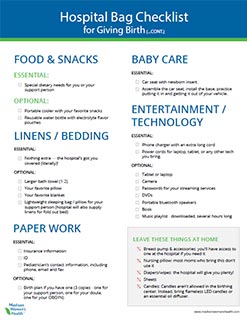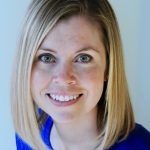 Dr. Sarah Yanke has been providing healthcare to women in Madison since 2010, specializing in high and low-risk obstetrics, contraception, management of abnormal uterine bleeding, and minimally invasive surgical techniques. She is a Board Certified Fellow of the American College of Obstetrics and Gynecology.
https://madisonwomenshealth.com/wp-content/uploads/2021/05/pregnancy-hospital-bag-checklist-birth-bag-woman.jpg
667
1000
Dr. Sarah Yanke
https://madisonwomenshealth.com/wp-content/uploads/2017/09/mwh_logo-300x177.png
Dr. Sarah Yanke
2021-05-26 13:10:36
2023-05-18 12:30:54
Pregnancy Hospital Bag Checklist: What to Pack in Your Birth Bag